Note from Eric: My son Marcus is selling his E46 coupe. I created this listing for fellow enthusiasts, and we're now deciding on what a fair asking price is. (And I'm deciding if I should just buy it from him!) Thank you to Marcus for the beautiful photography.
---
For Sale: 2004 BMW 330Ci Coupe. 6-speed manual, black/black, sunroof, premium options, 205K miles, looks good and drives well. This is a Drivers Car that shifts great and feels planted. Includes extra set of wheels/tires. VIN WBABD53404PD96467. (Specs for this exact car here.) Growing family forces sale. Car is in Dayton, Ohio. [ Price? ]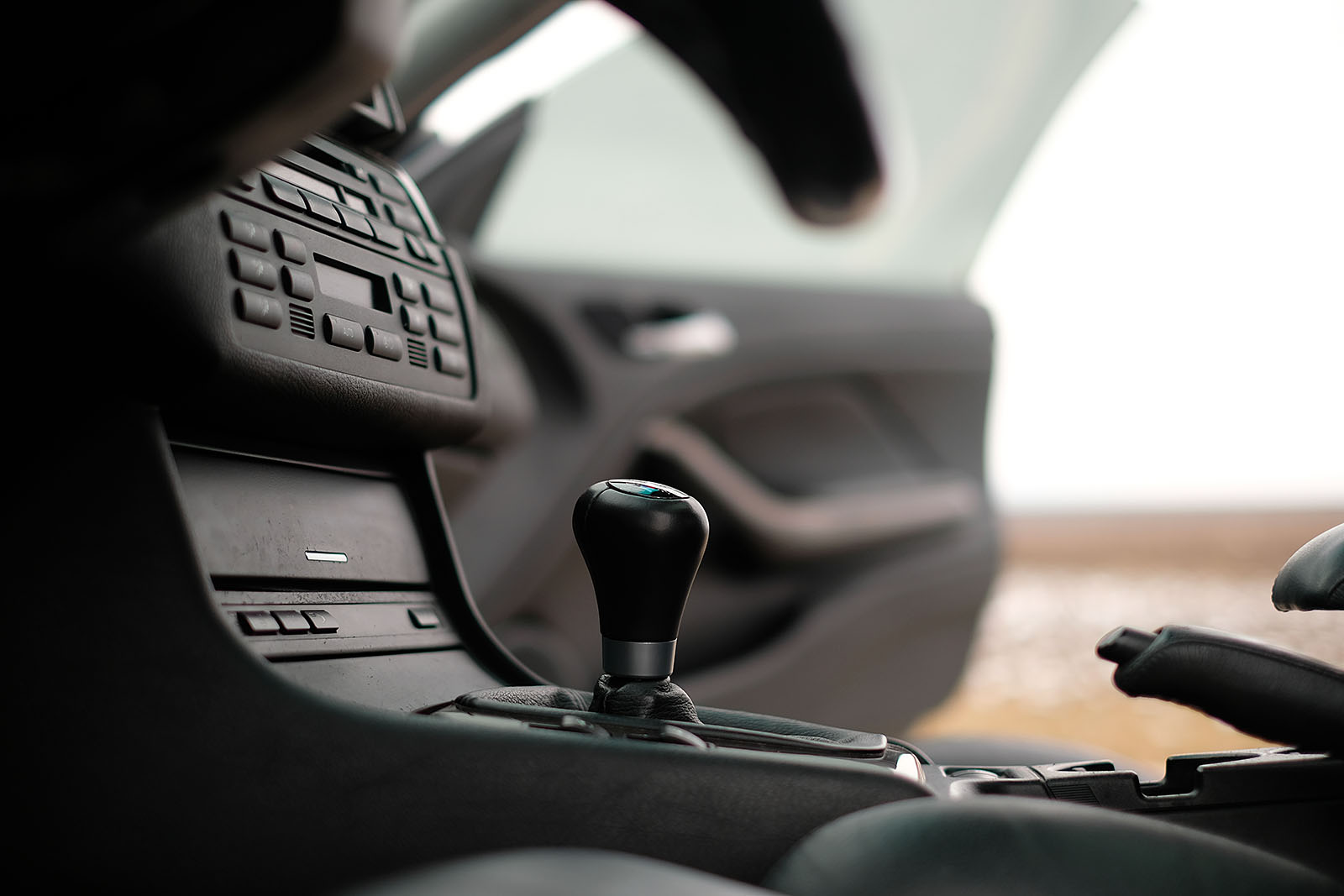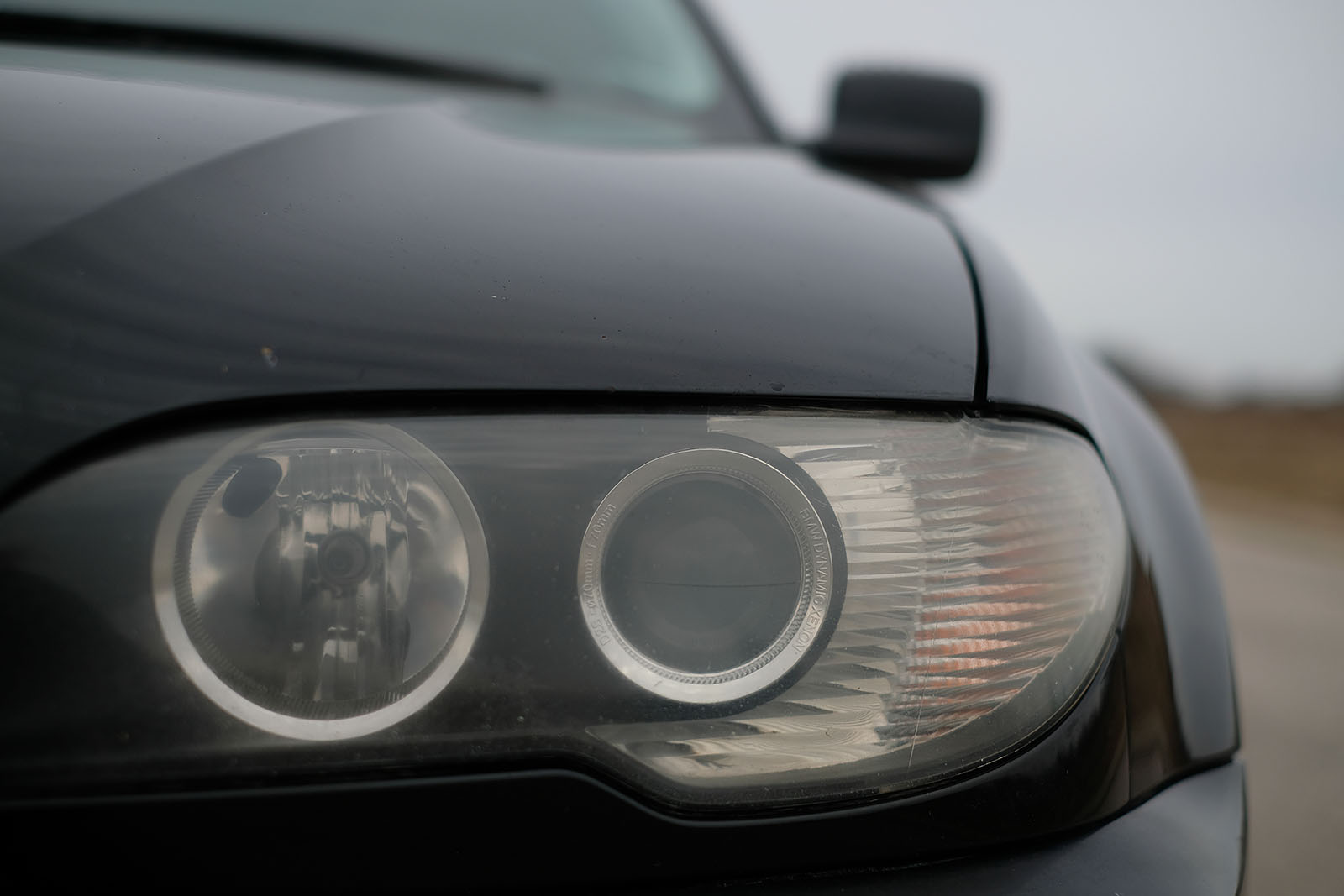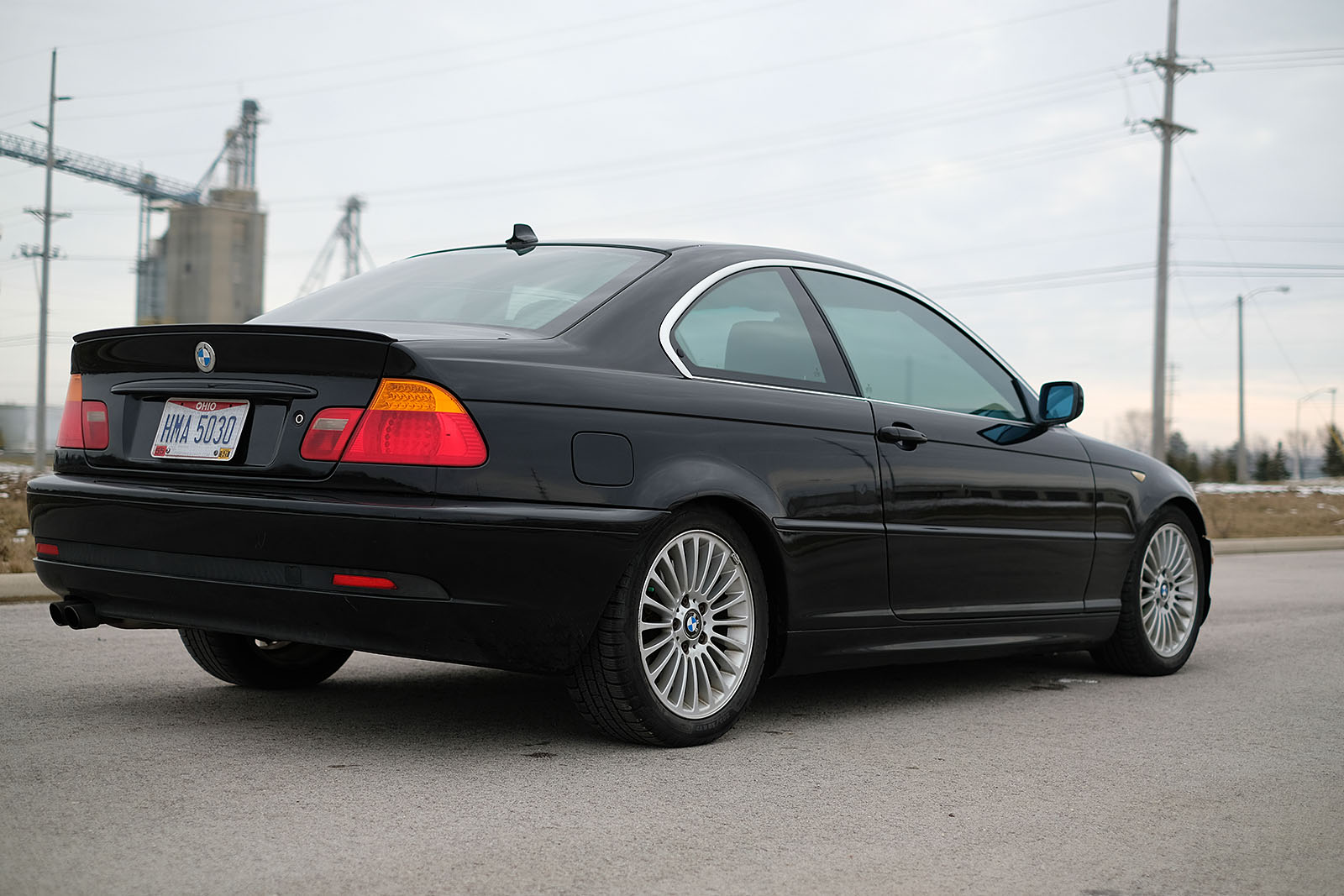 Mechanical
The M54 engine runs well and the transmission and clutch feel great. Oil changed every 5-7k miles using Mobil 1 0W-40 Euro formula and Mobil 1 filters. Recent maintenance includes (2016) clutch, steering rack, dual-mass flywheel, rear main seal, (2017) water pump with upgraded aluminum pulley, expansion tank, thermostat, hoses, serpentine belt, tensioner, idler pulley, cleaned MAF sensor, (2018) valve cover gasket, spark plugs, air filter, battery, power steering pump with upgraded metal pulley, (2019) four new summer tires, and alignment.
Exterior
Original black paint (Schwarz) shows well and is in good condition. Only rust visible is on the underside of drivers door, and not visible unless you bend down to look at it. Sunroof works fine and doesn't leak. Rear tail light assemblies were replaced in 2017 (originals were cracked, full of water, and had burned-out LEDs) with gently-used OEM non-sport units (with amber lenses instead of the original white). Rear window tint is creased and makes the window look broken. Five original wheels (a spare in the trunk) are BMW Style 68 "Double Spoke" wheels, staggered. Fronts are 17x7.5 ET41 with new (2019) General G-Max summer tires, size 225/45R17; rears are 17x8.5 ET50 with new (2019) General G-Max summer tires, size 245/45R17. The included second set of 4 wheels ("winter wheels," shown in most of these photos) are BMW Style 73 7x17 ET 47 with Michelin Pilot Alpin winter tires (which need replacing).
Interior
Interior and wood dash trim are in good condition. Shifter has a new "M" knob and there is a short shift kit. A/C works great. All electronics work and there are no burned-out pixels on the information displays. Options include Sport Package, Premium Package, heated seats, premium sound system, adaptive headlights, etc. Black leather sport seats in good condition but the driver's seat adjustable lumbar support is not working. Harman Kardon premium speaker system (with factory subwoofer) sounds great and includes the official BMW Aux Input Kit. Wired for dash cam. Owner's Manual is in glovebox. The remote lock/unlock works on the key, but there's only one key.
Needs (typical E46 issues, mostly)
Plastic valve cover is cracked and leaks minimal oil onto the exhaust manifold which results in an annoying smell.
On very cold mornings the starter may grind, the engine may idle roughly at first, and the cold air pump's fan may be noisy for a few seconds. (The code for the "Service Engine Soon" dash light points to this emissions-related pump; some people just remove the pump.)
Control arm ball joints and bushings should be replaced to fix the "front end clunk." Struts aren't leaking and sway bar links are good and tight.
Steering wheel is not quite straight. The tire store technicians struggled with alignment, saying it's due to a worn-out steering rack (which is only a few years old).
Occasional shaking during braking and delayed stopping after driving awhile in the rain.
At the gas station, sometimes the pump shuts off; perhaps related to charcoal canister that filters gas before the tank.
Front bumper doesn't clip properly on passenger side, and front of hood is slightly bent near the kidney grilles.
Front and rear BMW emblems are faded, and the "330Ci" trunk badge pieces have been removed (but are included).
Airbag recall hasn't been completed yet; may be related to the airbag warning light that turns on and off randomly.
Steering wheel leather cover is torn and the sides are sticky.
Windshield wipers are not as tight to the glass as they should be; maybe the arms' tension spring is worn out.
Driver's window switch cap is broken (it works, if handled gently), and the window makes a clicking noise (maybe a failing regulator).
Passenger seat adjustable front extension doesn't lock into position.
Headliner is loose in the back and on A pillars.
Trunk latch sometimes doesn't close and needs reset, and one of the rear seat fold-down release levers is broken (which can be over-ridden via toolkit screwdriver).