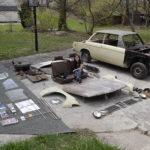 People have said, "An IKEA car!" when seeing the photo of our project car spread out on the driveway. Our family knows IKEA very well; back in 2008, we camped out for the opening of the first IKEA store in Ohio. (Ohio's second IKEA store will open tomorrow on June 6, 2017, in Columbus.) Below is the old blog post from our campout in 2008.

Sweden Comes to Ohio
or, "A Designer Dad Goes Bad"
Camping out for the Grand Opening of IKEA West Chester
March 11-12, 2008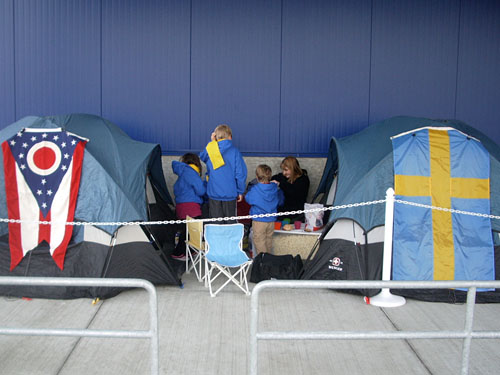 As a lifelong lover of all things Scandinavian, I figure this event will be Ohio's biggest-ever "Swedish Party." I also want to see how a big multinational company--one not based in the US--does a big launch.
My gut tells me that if we don't camp out, we'll regret it later. This is all about the experience and meeting fellow IKEAphiles--we don't plan on buying anything on this trip.
We arrive at 4:00 pm the day before the opening and are #38 and #39 in line. We're surprised, expecting to find a lot more ahead of us. It's either due to the cold, or maybe Ohioans just don't care.
We get the last "campsite" under the loading area roof and set up; my flag collection comes in handy (for once). Someone from IKEA Corporate stops by to discuss my Ohio flag; I tell him I'm eyeing the huge three-story-tall IKEA entrance banner flags, and that if one were to go missing overnight he'll know who nicked it.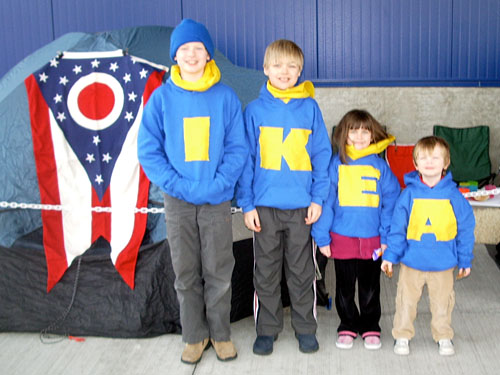 Cheap online sweatshirts: $36.
Yellow felt: $2.00
Cost of eventual counseling for dad's silly stunt: Priceless.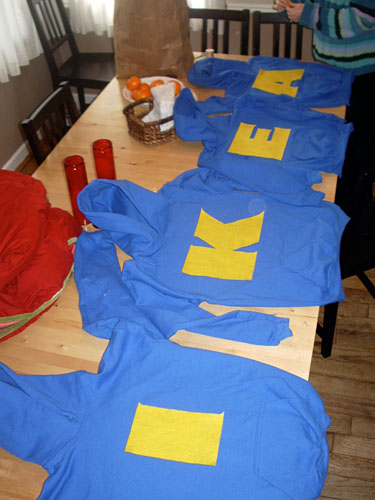 Flashback to sweatshirt assembly; no wrenches required.
NORDEN table and STEFAN chairs.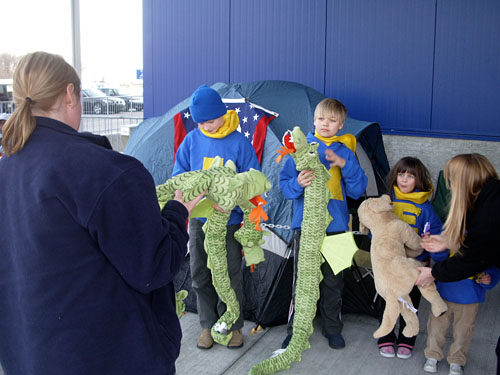 It turns out that the first 100 children receive a stuffed animal and first 100 adults a chair. Bonus for the younger kids--they quickly inherit the older kids' stuffed animals. The "camping contact lady" was great.
High cheer all around, due to even more free fun stuff like frisbees, water bottles, and coolers. Kids run around playing with frisbees when not playing in the tents. (Kids love tents.)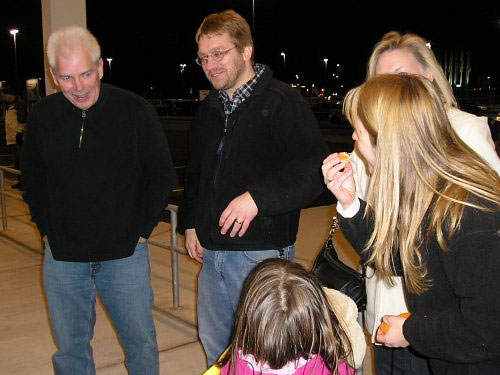 We get three sets of visitors (family and friends), and they're highly amused at the spectacle while sometimes shaking their heads.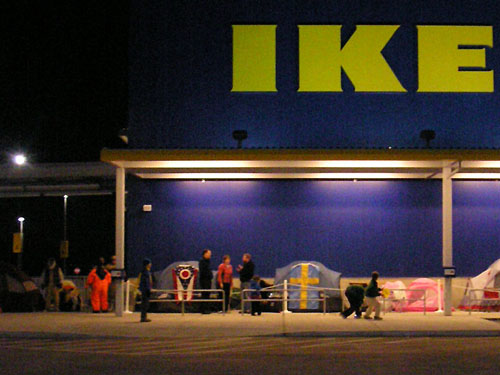 Life is good.
But it's starting to get cold.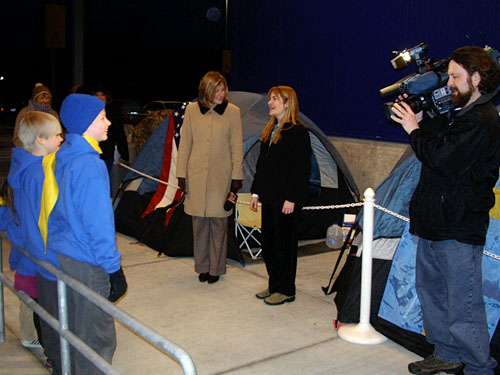 "What are you thinking?!"
"Ask my husband!"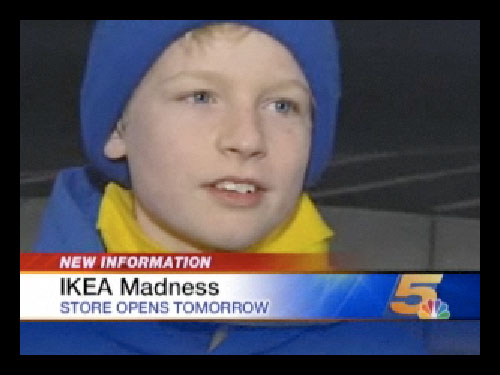 We made the local news, but the link to the video is long gone.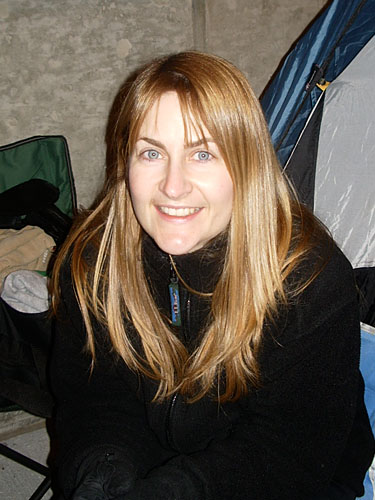 The Patient Wife.
(She's thinking, "I'd much rather be camping in Olympic National Park.")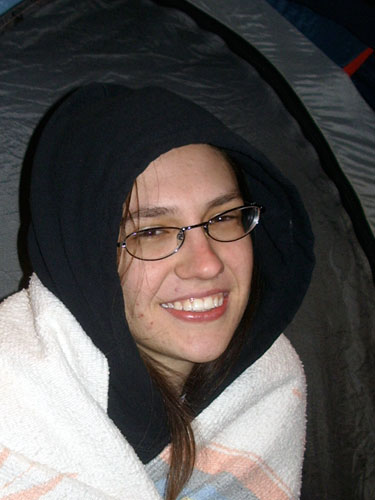 My niece joined us later (#65--a free chair!) and camped with us; always nice to have extra help with the kids.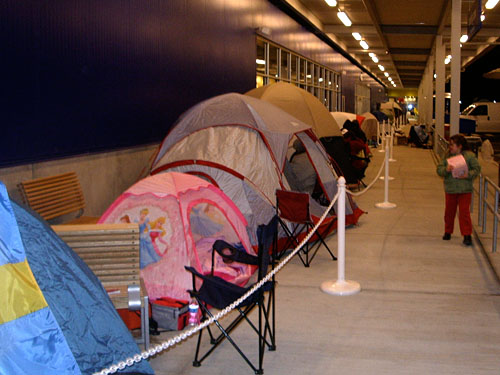 Looking west from our site to the exit doors and loading area; main entrance is further down. There are about 100 campers, split between the two sides of the building. It's a very diverse group but we all have one thread in common--which is all you need for instant comradeship.
We pass out bags of popcorn (big tub is visible in the first photo above) to all the campers and security guards. Shortly into it, we run into a guy who asks, "You're from the Vineyard, aren't you?" Turns out he is as well, and he's brought some soft drinks to give away. "Pop and Popcorn" is an unbeatable combo, and it's a lot of fun to serve fellow crazies. We have some good conversations with people and everyone is very cheerful.
Looking back, I regret not getting there even earlier--it would've allowed for more time to really chat with the others. Everyone has a story, and when you're stuck in line there's plenty of time to swap stories.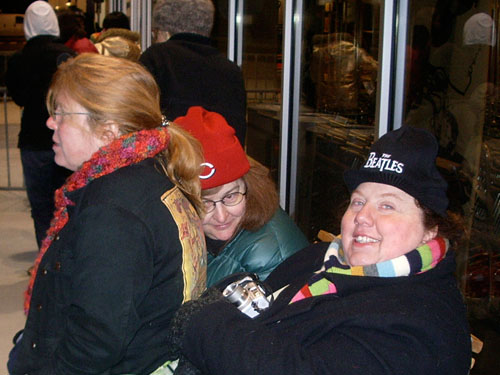 My goal coming in is to finally meet the owner of Flatpack Ohio. It's great fun talking with her and I finally get to thank her for all of her work.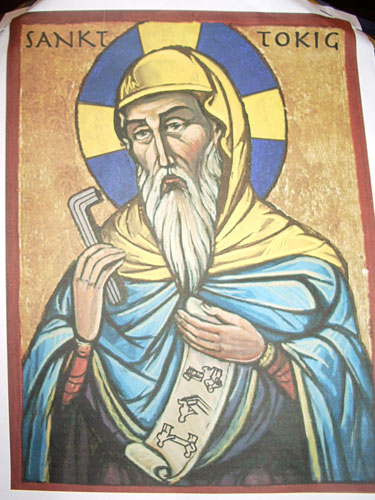 She has this print hanging on her tent. And I, as a self-professed expert in church humor, say "BRILLIANT!"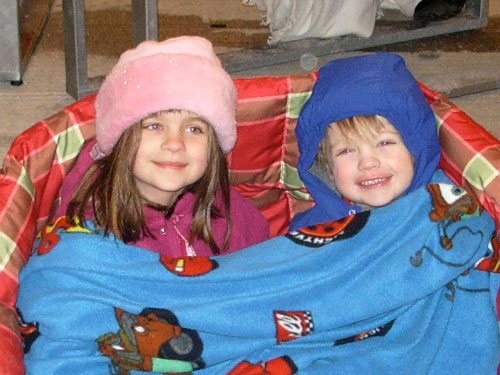 5:00 am: They're watching us break camp.
And they're the only ones smiling; all of the good cheer is gone. Most of us have hardly slept due not to the cold--the sleeping bags and blankets were fine--but rather the constant noise of interstate traffic, trains, and general IKEA activity. Bright overhead lights didn't help; this isn't the Upper Peninsula.
I tell my oldest son, "Oh, so you didn't sleep either? You're well on your way to becoming a designer!"
I should've just stayed up outside the tent all night like a few of the other campers.
The cold is hitting hard, now that we're out in it. The doors open at 9:00; the next four hours will last forever.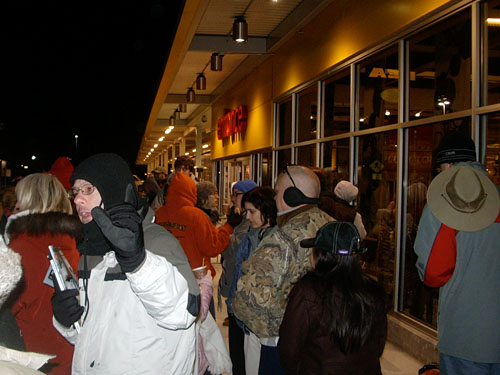 6:30 am: Getting into place in front of the main entrance.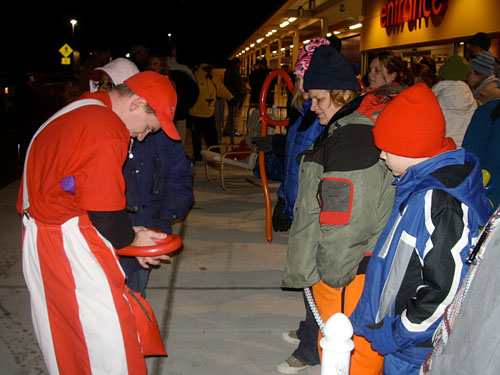 Various entertainers work the crowd including a lady on stilts, balloon man, etc.
Also offered are coffee, doughnuts, and hot steaming Swedish meatballs. More, please.
Another one of my goals is to meet someone from Sweden. This sort of happens--the woman passing out coffee was Swedish. (Or fooled us with her accent.)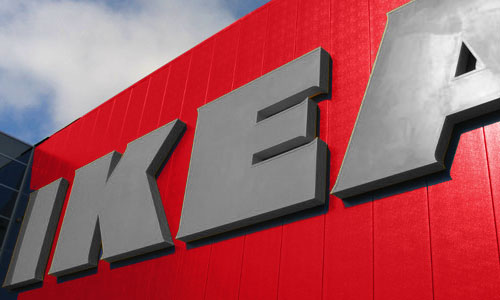 For a variety of reasons, I always thought that Columbus would get the Ohio IKEA.
If that announcement were to ever happen, I was planning on writing a letter to their Corporate Design Department in Sweden--challenging them to consider a color scheme change on one outdoor wall only. I'd establish my background as a designer familiar with corporate design sytems and brand identity guidelines--I use these resources, I write them, etc., etc. I also grew up in Columbus and I "drink deep of the cup" whose colors are above. (Painfully deep.)
"Listen," I would tell them, "I'm one of you and I'm one of them. Trust me."
The conclusion is that this "single wall color change" would be a one-time-only-thing for IKEA Worldwide--no other city would have an issue with their colors in the first place. By being unique within the IKEA world it would show Corporate flexibility and accelerate the bond between the city (state) and the store. And, it would a be a funny backdrop to a thousand family snapshots.
Ah, the power of color combinations. "Remember kids, blue and yellow together means Sweden."
- - -
But BuckIKEA didn't happen, and Brutus lost out to Mr. Redlegs...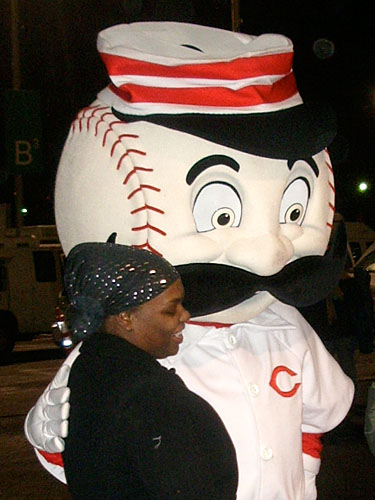 Our kids are huddled up against the building, way too cold to mix it up the with roaming sports mascots. He probably has much better luck with the non-campers---the new guests further down the line who are now arriving in big numbers.
By this point, I'm guessing that most of us campers are of similar mind--get in, get hot food, get the free chair, and get the hell out. Shopping is the last thing on our minds.
We anxiously await sunrise.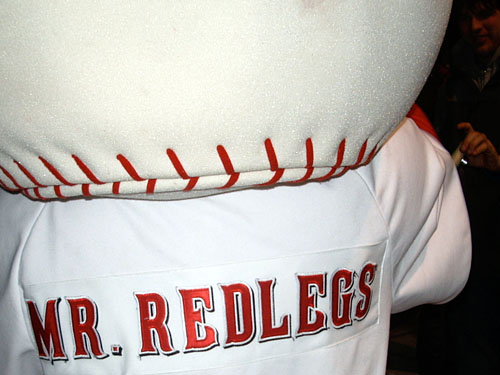 Design Comment: To best showcase the top object, drop shadows should be closer in value to the background, not the top object.
Otherwise, the drop shadow becomes too prominent and noisily distracts from the top object. When breaking this general rule, have a good design reason as to why.
I wonder if this font is proprietary; I think it is. If so, that's quite an investment by a sports franchise.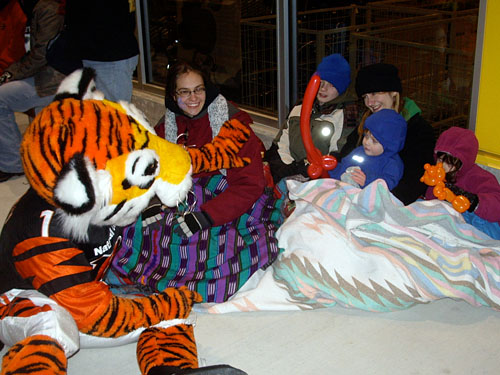 The long hours.
Anxiously awaiting sunrise.
Rumblings about wanting to retreat to the car.
Seeing that we're going nowhere, mascots come to us.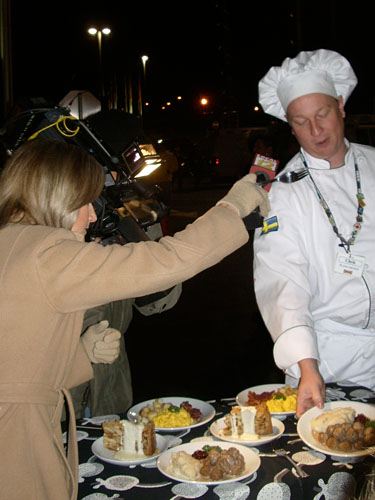 TV reporter samples food offerings from the Swedish Chef. The steaming hot dishes were right in front of us campers; it was brutal to watch this.
Anxiously awaiting sunrise.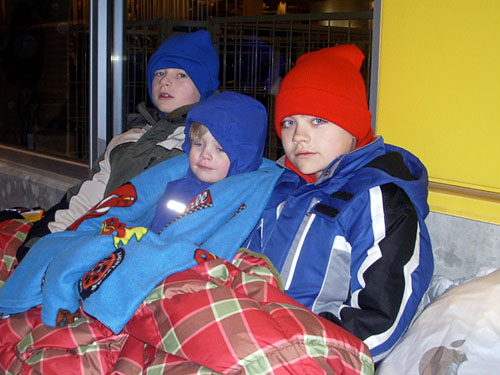 The low point.
I'm thinking, "There's no way they'll put on the logo sweatshirts again. They hold all the power. But do they know it?"
- - -
Exhortations that did not work:
"Guys, now's when we really earn all of that free stuff!"
"Wow, they brought a bit of Sweden with them--all cold and no sun!"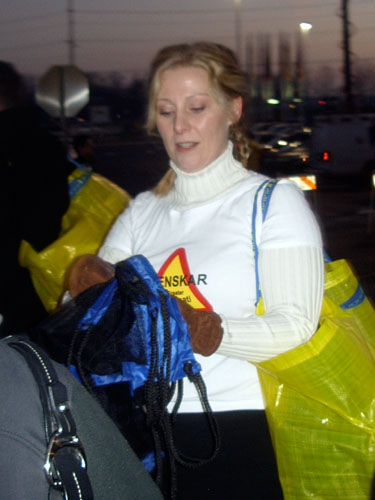 Handing out backpacks. She is indeed Swedish; born and raised there and now living here.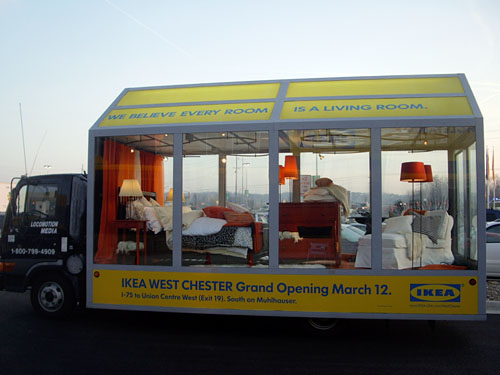 Sunlight! Warmth! Hope!
The West Chester site is fantastic. The ring around Cincinnati includes Dayton, Columbus, Hillsboro (!), Lexington, Louisville, and Indianapolis. Lots of people and many a college campus--no other furniture store attracts such a young and hip crowd.
The local site setting is also great--right off a major north-south interstate with spacious and upscale neighboring properties. The Seattle store is in an industrial park, the Pittsburgh store is off a spur highway to the airport, the Atlanta store is not visible from the highway, etc., etc.
This store will do very, very well.
- - -
Design Comment (as discussed that night by non-designers as well): Including the West Chester logo as part of the huge IKEA highway sign is a bad, bad idea. Why did IKEA Corporate approve it, and why is it necessary at all? The nearest store is hundreds of miles away--it's not like there's an IKEA MIddletown or an IKEA Norwood.
Oh, West Chester... you've come so far... please don't mess this up. Remove your sign (ha) or redesign it (Corporate-approved Futura, tastefully small and letterspaced, white on black) and be welcomed to the big leagues.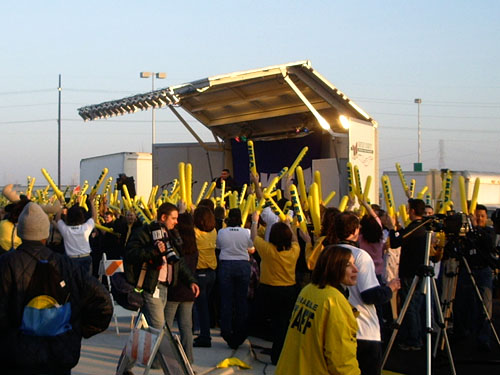 8:50 am: We see very little of the stage festivities because the "camper area" is off to the side. That's okay, because we're still huddled up against the building.
Here's the staff, working up the crowd.
To the right of this is a tent where they saw a log in half as a Swedish house blessing; that's the last thing they do before opening the doors. The end is in sight.
- - -
Ideas for shirts that I should've worn:
"What's Swedish for Cornhole?"
"CUT THE LOG & OPEN THE DOORS"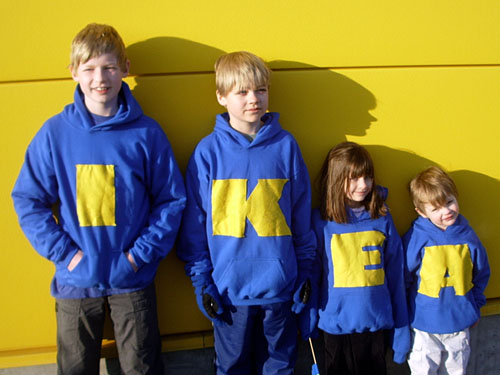 8:55 am-- Just before entering the store.
There was much negotiation involved in getting them to put on the logo sweatshirts again--I'll be paying off those bribes for a long time.
I'm especially proud of the eldest, who was extremely tired and was not at all into yet another photo-op. But like a man, he took one for the team. A year from now he'd never agree to do it--and I wouldn't want him to. So for him, this is the last picture of the "cute little kid" years. Enter the next phase, son, you've done good.
*snif*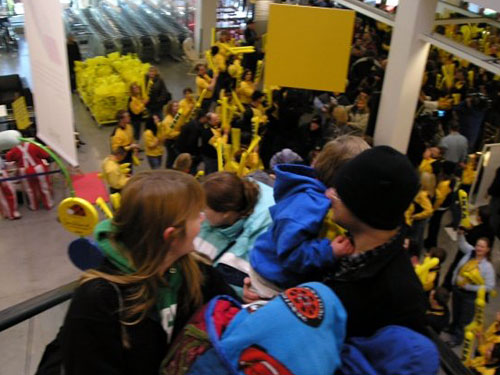 9:00!
Even though we're right by the windows, the sweatshirt fitting drama distracts us from the fact that the main lobby is filling up with staff. The line starts moving ("I - K - A - E -- hey, you two switch places"), we enter the building, and we're completely overwhelmed by what's inside. Employees and photographers are packed tightly on both sides of a "path" that leads straight to the escalator. The staff are cheering and using the noise sticks to welcome us with an over-the-top celebration. The plan to go to the lockers with all of our stuff is a non-starter.
At the foot of the escalator our youngest freezes while the line behind picks up speed. I almost fall down while scooping him up amidst the blankets and coats I'm carrying. The ride up the escalator was bedlam--in a good way. It's two days later and I'm still processing it; it was totally amazing, especially being at the limit fatigue-wise. Mind-blowing.
At the top of the escalator we enter the showroom and find the nearest sofa (EKTORP, just like home) and everyone collapses in the warmth. Ahhhhhh.
We make our way to the restaurant (hot eggs, yum), then through the marketplace ("Shortcuts, everyone, shortcuts!") to visit a friend who works there, through the warehouse, past the checkout, pick up the chairs, and away we go. In the parking lot I see another camper; waves and smiles are exchanged.
On the drive home, I ponder the fact that in the store I was starting to view the shoppers--those who were actually buying stuff--with a bit of contempt. As if what I did--by arriving 12 hours earlier and not buying anything--was somehow more noble?! We later learn that 11,000 people entered the store in the first hour. They're crazy; we're not. (Right?)
I need some rest.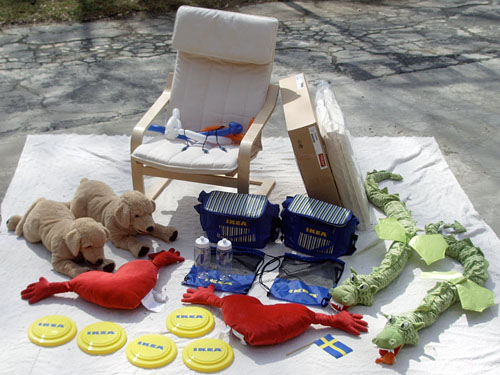 The final haul is a combination of early bird prizes and freebie swag: chairs, stuffed animals, stuffed hearts, frisbees, coolers, backpacks, balloons, pens, flags, and water bottles. Not bad for one night's work; if we had arrived there 12 hours later (at 4:00 am), we wouldn't have gotten any of this.
Stuff is gradually being given away; the only multiples of things we'll keep are the stuffed animal dogs and water bottles.
- - -
Our sort-of-annual trips to IKEA Pittsburgh over the past many years were very draining; the pre-planning, the shopping with kids, the hauling and driving, etc. This experience was draining as well, and even though the store is right here I doubt we'll go back real soon. Our "IKEA quotient" has been met for awhile, just as before. But I do look forward to exploring it slowly for a change, now that we can do so.
All I know is that whenever I do visit that store, I'll always have an eye out for fellow campers.