Update: SOLD For Sale: 2001 Saab 9-3 SE turbo. 5-door, 5-speed, black/gray, 235K miles, sunroof, heated seats. Runs and drives but is rusty and needs driveline repair. VIN YS3DF55KX12006314. For project or parts. Car is in Cincinnati, Ohio. Price: One Adriatico's Bearcat pizza, $50. Email eric@kingandsons.com.
Detta kommer inte att hålla. Jag vet vad jag har. God Jul.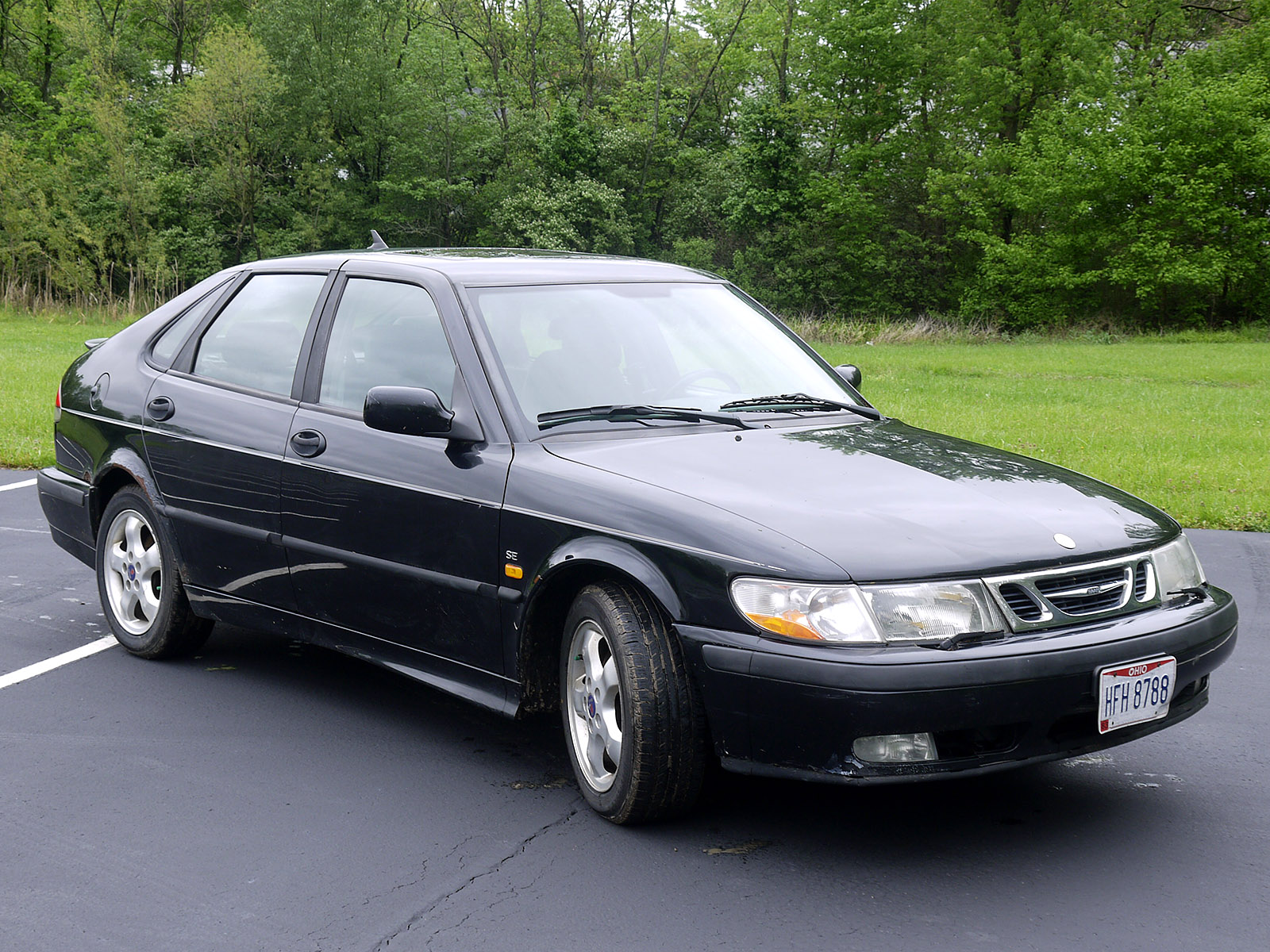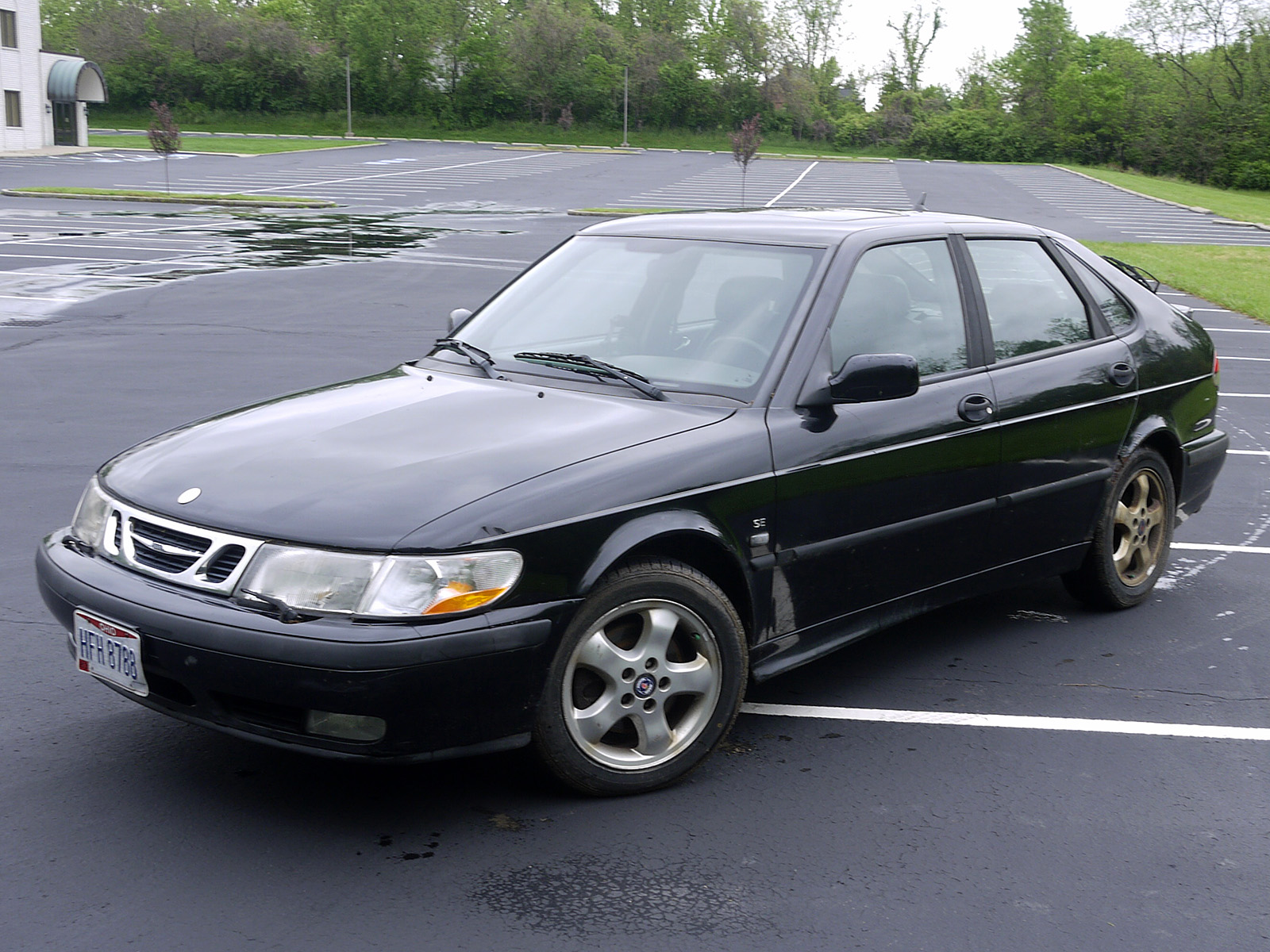 Mechanical
Motor purrs; it's smooth, quiet, economical, and has gobs of smooth power right up to redline. It's starting to burn some oil but there's no smoke. Items replaced in the last five years include radiator, belts, hoses, plugs, 9-3 oil sludge check (good), PCV update, rear main seal, DIC (with spare in trunk), fuel pump, power steering hose, motor mounts, alternator, clutch, suspension, brakes and tires.
Exhaust all good quality OEM style newer parts. Pretty much the entire front end was reworked less than 30k miles ago, so as other stuff goes wrong, you will be pulling parts that have been out recently and anti-seized before going back in.
Driveline
There's a loud clunk/rattle in the front right which is probably due to a bad differential, CV joint tripod, or motor/transmission mount. It's also difficult to get into reverse, which may be a linkage issue or an internal gearbox issue. See below for suggested fix.
Passenger side CV joint was replaced with rebuilt part; tripod needs replaced. Some motor mounts replaced, others need replaced. Rear drivers side well nut for the subframe mounting bolt pulled out during the last clutch replacement, replacement nut welded in, and if that pulls out again there is already an access hole under the brake pedal to get into the frame rail to address it again.
Front and back shocks replaced, pretty much every suspension component replaced. The boring but adequate tires probably have less than 3k miles on them since new. But get an alignment done soon, or the front tires will die before their time.
Body
Some significant rust holes in body, but the car still has a really purposeful elegance in it's presence. The body has rusted through in a few places under the car and the hole over the fender continues to grow slowly. Not structurally dangerous yet, but getting there.
Interior
The interior continues to fall apart but it's mostly functional. Sunroof works. Heated seats work but power seat switch is sketchy. Shift knob is 3D-printed. Big chrome button (from a guitar foot pedal) switches between radio and the aux-in cable.
A/C
The a/c is disconnected (a short belt mod bypasses the compressor) and a working used compressor is included in a box in the trunk. The current system has a leak somewhere; if the leak is at the compressor, then the replacement will fix it. Otherwise, the hard lines would need to be replaced—which would be hard for labor and pricey for parts. The a/c would hold a charge for a week or two, but compressor is currently bypassed with the short belt mod. Working (claimed by eBay seller with good reputation) used compressor in box acquired after a/c clutch failed... replace whole compressor, or just swap over clutch bit, the whole assembly cost about as much as a/c clutch parts, so the whole unit was purchased. The dual-zone climate control works great in winter, and would work well in summer if you address the a/c.
Summary
If you want the car as a project, the above items (clunk, reverse, a/c) could all be addressed when swapping in a used gearbox as outlined here. The manual transmission internal differential is in bad shape but, with reverse what it is, it needs a used transmission swap regardless. They are cheap and actually not that hard to swap (you remove it completely regardless to replace the clutch, so a transmission swap is actually less work than a clutch replacement). If all you did was replace the tripod, and you would be willing to live without a/c and patient about finding reverse, this car could be a really fun daily driver / beater just by replacing the passenger side tripod.
---
My son purchased this car at 183K miles in 2015 while he was in college. It served him well for a couple of years, and in 2017 it went to a Saab enthusiast friend who wrote about his work on the car here. That friend did a lot of work on it—he removed the gearbox twice—and enjoyed the car until 2020, when the virus shutdown (and kids returning home) required him to downsize his fleet. He needed it gone quickly, so I took it off his hands—and now I've decided to pass it on as well. (Too many projects!) Note: If you read my friend's story at the link above, you'll see that the 2017 purchase price was one large pizza. I'll gladly accept another pizza as payment again.
In the end, this is a very cool car—a black Euro 5-door turbo with 5-speed and sunroof. But is it also the end of the car?!