The Vintage 2019 in the E30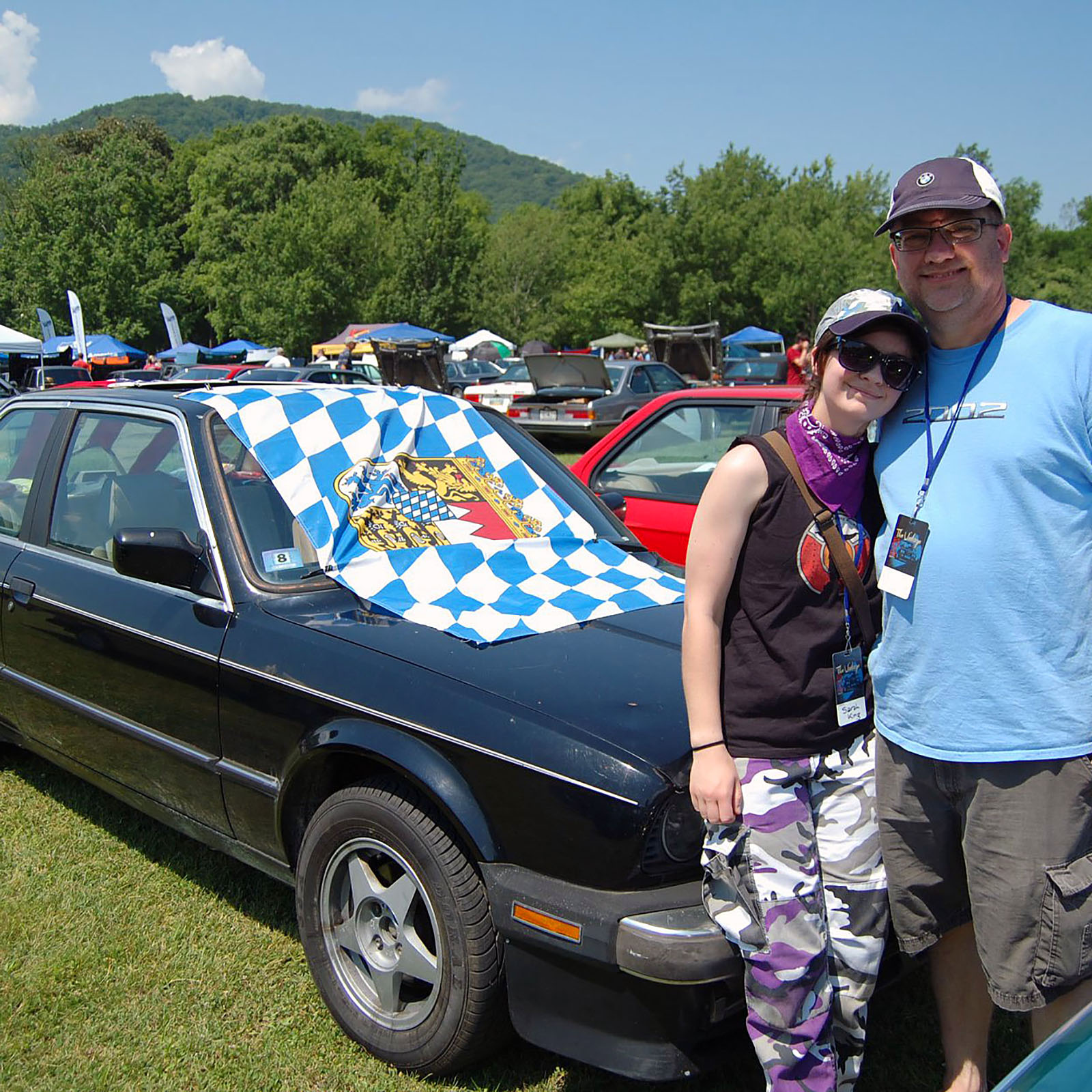 We had a great trip to Asheville and back in the 1987 BMW 325is. On the way down we enjoyed being in the 15-car caravan with the Rivertown Gear Busters, while on the way back we flew solo. The car held up well--but I kept thinking, "What's that noise?! What's that smell?!"
I had been to many car events over the years, from local "cars and coffee" gatherings to high-end Italian Car Shows. For all of them I did the "remote parking" thing and walked over to look at the cars; I had never parked in a place where others would look at my car. At The Vintage 2019, though, we parked on the grass.
Mechanical summary: The 1987 BMW 325is was drivable when we got it, which was key for our confidence. ("Can we do this?") It had been sitting for awhile due to an overheating issue, so all systems needed sorting. The odometer reads 174K but has been broken for who-knows-how-long. In the end, we 1) replaced the timing belt, 2) replaced the cooling system (water pump, radiator, thermostat, hoses), 3) adjusted the valves and replaced the valve cover gasket (oil burning smell from the old gasket leaking onto the exhaust), 4) replaced the spark plugs, 5) changed the oil, 6) replaced the battery, 7) replaced the parking brake assembly in the rear hubs, 8 ) replaced the exhaust system, 9) fixed a broken fuel line, 10) tested the engine block for a blown head gasket (it had symptoms but it passed the test; the test was a rental kit and the fix was a new radiator), 10) had the wheels sandblasted before painting them with primer and wheel paint, 11) mounted and balanced five new tires (full-size spare!), 12) checked the fluid levels in the gearbox and differential, 13) checked the front end bushings and links for excessive play, 14) repaired broken hinges on the drivers door, and 15) replaced the clutch slave cylinder. The last item was a real pain; we almost didn't make the deadline of this show due to problems bleeding the clutch slave.
Our plan is to loan out this car to friends who can appreciate a rear-wheel-drive car with a 5-speed. Before we do that, though, we need to: 1) replace more parts in the braking system (brakes are too soft), 2) fix the front right strut (it blew and leaks oil), 3) replace the steering rack (it blew and leaks power steering fluid; we cut the belt to the power steering pump for now), 4) find out what's going on in cylinders 3 and 6 (plugs getting fouled), 5) fix the broken front left turn signal assembly, 6) fix at least some of the dashboard warning lights and broken sensors, 7) fix the passenger side power window (which doesn't go down), and 8) fix some interior bits. Down the road—after we work on the original project car, the '71 2002—we'll look at fixing the A/C system and doing some body work.